The power of a simple gift.
Time to start shopping for Operation Christmas Child!  It's a great family activity!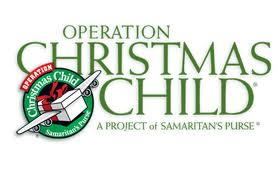 Operation Christmas Child, the world's largest Christmas project, brings joy and hope to needy children around the world through gift-filled shoe boxes and the Good News of God's love. Since 1993, more than 86 million shoe box gifts have been delivered to children in more than 130 countries.
Pack a shoe box for a child and share the love of Jesus Christ. We will be collecting boxes at AWCC November 13 & 20, and then they'll be delivered to a distribution center. A brochure with a label for your box is available on the table in the lobby.