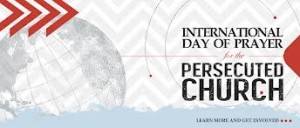 Sunday was a day for remembering those who suffer for being followers of Jesus. Nearly 70% of the world's population  lives in areas of religious restriction . Many of these are brothers and sisters in Christ, and they count on our prayers for them. Hebrews 13:3 says, "Remember those in prison as if you were their fellow prisoners, and those whoa re mistreated as if you yourselves were suffering."
You can do this in several ways:
Get to know some of the struggles of the persecuted church by visiting www.persecution.com or www.onewiththem.com
Pray with other believers around the world Today, the International Day of Prayer for Persecuted Christians
Be creative and use your God-given talents to spread the word of Christian persecution.
Give money to provide Bibles
Write letters that will strengthen and encourage believers.