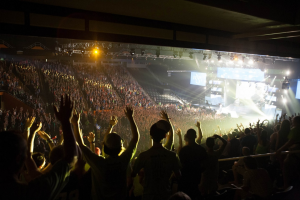 On Sunday, July 5, we commissioned six students, Melany, Joe, Hanan, Keisha, Cierra & Patrick, and two leaders, Justin and Rachel, as they prepare to leave for CHIC 2015 in Knoxville, Tennessee on Saturday.
As they're in Knoxville, pray for our students and leaders:
Pray for God to speak to the hearts of our students.
Pray for the students to have a passion to strive to fully follow Jesus.
Pray for the students to grow in their faith and have the love of God rain down on each of them.
Pray for energy for the leaders as they lead with little sleep!