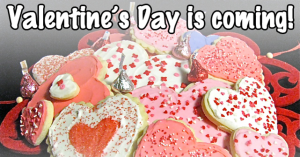 It's time to start preparing for our annual Valentine's Day Care Packages for our college students.
This year you are invited to the packing party  Wednesday,  February 5, 7 pm.
Come for dinner at Alafia at 6 pm, and then stay to put together the Valentine boxes for our college students!
What you can donate:
Prepackaged, please,  homemade cookies/treats/candy. Please bring 22 of
whatever you bring. (Some Gluten free appreciated!)
Money to purchase Starbuck's gift cards, Valentine's Day cards,
and postage to mail the boxes.  (Write College Care Packages in the memo section)
Our college students have been blessed by receiving a Care Package in the past, and we look forward to showing we care again this year!   We will be sending out about 22 Care Packages this year!