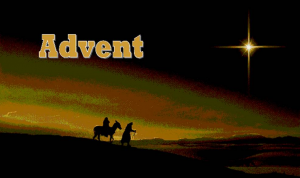 Advent is the name given to the period of preparation leading up to Christmas.  It begins on the 4th Sunday before Christmas and ends on Christmas Eve.  The word "Advent" comes from the Latin word adventus, meaning "coming."  It is a celebration of Christ's first coming, and at the same time a preparation for His return.
On the first Sunday of Advent next week, we will focus on the word "Hope." The season of Advent is also about hope.  We look back on the longing of the Old Testament saints for the coming of the promised Messiah, and we look forward to Christ's return.  It is in times of suffering and turmoil that hope is most important.  If our hope is based only on our own abilities and resources we are bound to be disappointed.  But if our hope is in God we can remain confident through the storm.  When we feel overwhelmed by the difficulties of life and the evil in the world we can join creation in groaning for Christ's return (Romans 8:18-25).
Even before Thanksgiving, preparations for Christmas are all around us, but nearly all of them have nothing to do with the birth of our Savior.  What does Black Friday have to do with Jesus? Even most Christians give little thought to spiritual preparation for the celebration of Christ's birth.  We have to get our shopping done and send our Christmas cards like everyone else.  As we plan for Christmas, let's remember to open our hearts as God prepares us to remember and celebrate His amazing gift to the world!