Dear family, friends, and support team,
On September 27, a team of 8 will be departing Miami for Quito, Ecuador, on another adventure mission trip to serve the people and children of Ecuador in the name of Jesus. We have gathered our supplies, activities, clothing and money so as to reach out to the children and needy of Ecuador. We will be spending Saturday in Quito at For His Children children's home getting acclimated to our new environment before we travel south to spend 5 days ministering to the children at FHC Latacunga. When we return to Quito, we will minister to the children at FHC Quito and to the families that work at Zambiza, the city recycling facility also known as "the dump." We will also participate in a ministry with Pan De Vida serving food to the street people of Quito. Each of these ministries have become near and dear to our hearts and we return feeling so blessed for the opportunity to serve God in this way.
None of this can happen without your prayers for us. God loves to hear the prayers of His people for those who desire to serve. Would you pray for us?  We are grateful for your prayers and support.  We look forward to sharing our adventure with you.
Thank you from Team Ecuador – Fall 2013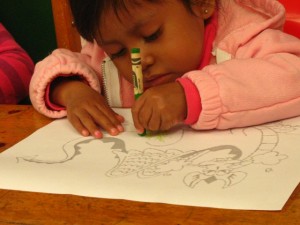 Prayer Needs:
Travel and safety
Protection against illness and injury
Unity of the team
Joy in serving, and that our burdens would be light with Jesus
The children and Tias at For His Children
The Extreme Response Team that will be hosting us -Paul Fernane and Pete