Dear Friends and Family,
God moves in response to prayer! We've seen that so many times on our Mission Trips. "We will accomplish little of eternal significance apart from prayer." This particular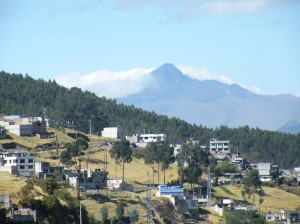 project has been in prayer for nearly 2 years.  What a joy to see it come to fruition.  So we ask you to join and support us in prayer as we head off July 13-22.  It's exciting but at times unsettling. It's great fun but also challenging. It's exhilarating but also tiring.  Mostly it's a joy to be a part of God's work in  Ecuador.  We value and need your prayer partnership.
We are once again being facilitated by Extreme Response International who has arranged all of the mission plans with us.  They are an amazing organization and wonderful to work with.
The project is building a house for the Tenezaca Family:
Alfredo, Gloria, Daniel (15), Dayana (8) and Jonathan (7) who formerly lived at the Zambiza city dump.  They no longer live in the dump, but in an area nearby with shelter fashioned from dump scraps.  Our team is comprised of 13 of us coming from the USA and 12 of our brothers and sisters at  Santiago Church in Quito.  This is the first group to have Ecuadorians on the team with us "gringos" and it offers many future possibilities.
We treasure your prayers for:
The staff and facilitators  from "Extreme Response"
Our "ER" coordinator, Dan Maloy
The Tenezaca Family
Team Leaders, that we would lead well (Rick, Ellen, Chad & Sarah)
God's protection and provision
Sensitivity to God's leading and openness to learn and grow
Team unity and spiritual health
Physical health, safety and stamina
That God would multiply our efforts
For family members and responsibilities left behind at home
That we would encourage and bless the people we serve
We know that God has wonderful things already prepared for us.  We are
excited at all the prospects.  We look forward to sharing with you when we return.
Summer Team Ecuador 2013