Take me out to the ball game,
Take me out with the crowd.
Buy me some peanuts and cracker jack,
I don't care if I never get back,
Let me root, root, root for the home team,
If they don't win it's a shame.
For it's one, two, three strikes, you're out,
At the old ball game.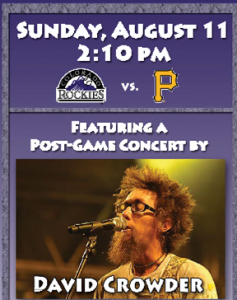 Reserve your tickets this week with Mikki at the church office for the Rockies Faith Day on August 11 and spend a fun afternoon watching the Rockies with your AWCC Family. Then stay for a concert by David Crowder after the game!  Payment for the tickets is due to church no later than July 16; however, we will need to reserve the tickets before then. So please RSVP this week!