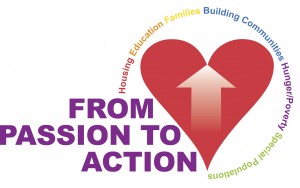 The purpose of the conference is to celebrate collaborations between Jefferson County and the faith community, bring practical ideas to make these collaborations more effective, and enlist new partners and partnerships to serve our community.
The theme this year is from Passion to Action. You can choose to attend breakout sessions from 6 passion areas:  housing, education, family, building communities, hunger/poverty, and special populations. The cost of the conference is $30 (including lunch) if registered before February 10! $40 after that. It will be at WaterStone Community Church, 5890 S Alkire Street, Litton, CO 80127.  To register go to  https://waterstone.ccbchurch.com/w_form_response.php?form_id=167    For more information go to www.jeffcopop.org
Proceeds from the conference will benefit Mean Street Ministries and a new housing project in Jefferson  County. Visit www.meanstreetministry.org  for more information.
Diapers and  canned food will be collected at the conference to benefit those in need.