The dates for the Fall Ecuador Mission Trips are selected! The planning team is excited to have others join them as they go and serve and For His Children orphanage in Quito, Ecuador. The trip will be from September 27—October , 2013. If you would like to find out more about the trip or to sign up, call the church office for more details. It will be a great trip serving these precious children!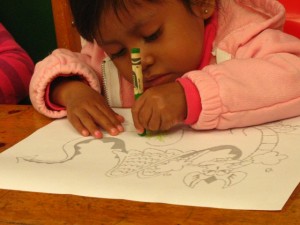 A little bit about For His Children . . .
For His Children (FHC) is an evangelical Christian residential ministry to homeless children with normal needs and special needs in Ecuador. Currently, 40 to 50 children are cared for in two residential care homes in north-east Quito and a home in Latacunga, in the Province of Cotopaxi. The environment provides physical and emotional support, spiritual nurturing, and lots of tender loving care. The residents of FHC range from newborn to 18 years of age.
Founders Clark and Melinda Vaughn and their two young children, Phillip and Lesley Ann (both now adults) moved to Quito in 1990, and began caring for abandoned and orphaned children as foster parents, receiving referrals to care for severely malnourished, premature and disabled children. Supported by God's provision of prayer, donations and encouragement, the ministry grew from one child in 1990, to now over 700 children who have been held in the arms of FHC.