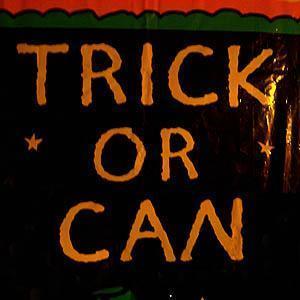 There's no Alafia on Wednesday, October 31 — but the Uth will still meet!
Middle Schoolers and High Schoolers,
Come for dinner at 6 pm in your best costume Wednesday, October 31
Then we will go out and Trick or Can.
What is Trick or Can?
Instead of asking for a "treat" we will ask for canned goods, which we will donate to the food bank at Mountair Christian Church in Lakewood. It will be a night of fun and helping those in need! Mountair is seeing an increase in the number of  people asking for food this year and the canned food will help!