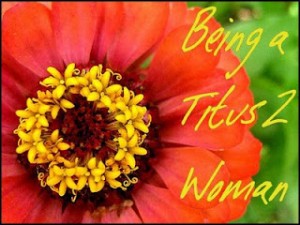 If you would like to be part of the Titus 2 Women Ministry, the initial Kickoff Potluck will be Sunday, September 23, after church. Be sure to check your evite, so you can RSVP. Groups will be assigned at this get-together!
What will the Titus 2 Women Ministry look like?
We will start meeting once/month in small groups of 3-4 women in October.  Groups will be assigned randomly based on ages.  We want each group to have a variety of ages: 2 under 40 and 2 over 40, for example.  We may want women to indicate their age or age group: 20-30; 30-40; 40-50; 50-60; 60+.
Each group will decide when they want to meet.
Every quarter we will all meet and discuss how things are progressing.
We discussed the option of changing groups quarterly/bi-annually/annually regularly to get to know everyone.
We are currently looking for group names: Ti 2 Sistahs, something with Ruth, etc.  We are taking all suggestions.
Also, we will be discussing a biblical question/topic each month to start conversations.  We are collecting suggestions.  These topics will be sent to Laura Brant who will be assigning them each month.
The group is still open.  Feel free to invite non-AWCC women.  If someone invites a non-AWCC person who attends, they will both be assigned to the same group.
Everything discussed is confidential.
To sign up or for more information, please contact Scheri Thatcher.