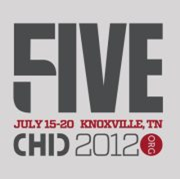 This past Sunday, our youth who attended CHIC2012 shared their experiences. They did an awesome job! Thanks for sharing and also sharing a couple of the songs from CHIC 2012! If you missed hearing about CHIC, take some time to ask one of our young people about their week there and how it impacted their life. The questions that were asked at Main Stage (the evening group gathering at CHIC) were powerful. Read the questions below and then find out what it means to our students!
Chic is a life-changing week for the high schoolers as well as the leaders. From the time CHICsters arrive with all the activities to choose from,  heart-changing teaching experiences, to well-known speakers and bands that reach in to the core of the CHICsters, to quiet moments with God, CHIC changes lives!
This year the theme of CHIC was FIVE. From the time the theme was announced, Covenanters wondered what it referenced. Organizers kept it quiet until the first mainstage of CHIC 2012. Was it chosen because this is the fifth year CHIC has been held at the University of Tennessee campus? Was it because the event was five days long? Were those and other reasons all part of the theme?
As it turns out, Five also is the number of questions asked by God that students were asked to consider throughout the week. A different question was introduced each night at Main Stage.
On Sunday night, speaker Harvey Carey drew upon the story of Mary Magdalene encountering the risen Christ, who asks her,
"Who are you searching for?"
On Monday night, Bianca Juarez posed the question that calls
individuals to follow Jesus, as he asked his disciples,
"Who do you say that I am?"
She exhorted students to follow Jesus' example and not allow others to define them. Juarez told of how she had been enslaved to a false image of herself, wondering whether her life could ever get better. "When we recognize who Jesus is, it changes who we are," Juarez declared.
On Wednesday, Francis Chan preached on the question,
"Do you love me?"
He encouraged the students to have an open and vulnerable heart like King David's, who asks God in Psalm 139 to "Search me, God, and know my heart, test me and know my anxious thoughts. See if there is any offensive way in me, and lead me in the way everlasting."
Judy Peterson preached on the question, "Do you want to be made well?" Surrender requires initial and daily decisions to obey Jesus's command to take up their mat and walk. She noted that Jesus didn't heal the man – or anyone else – unless they wanted to be healed. "You have to take up your mat and walk," Peterson said. "You're not an exception to this rule." Attending CHIC is not a cure, Peterson said. "As wonderful as CHIC is, CHIC won't change your life forever unless you change your life forever."
Speaker Louie Giglio concluded on the last night of CHIC with the question, "Whom shall I send?" Giglio said that if Jesus has touched their lives, then they are ready for this question. This is a question from God. He's asking us, but the enemy will put doubts in our minds — we're too young, too young of a Christian, don't know Scripture well enough, etc. Don't listen to the enemy, but listen to God's call!
Yes, CHIC  was an exhausting  week full of fun, but it's so much more than that. We are thankful to God for what our students and leaders experienced and brought home with them from CHIC 2012! You can listen to all these talks at www.chic2012.org and click on media until January 2013.