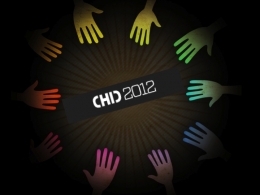 Our Uth leaders and students are back from CHIC! A  little bleary-eyed, but back with God sightings. Take some time to find out more about their week.
Welcome back, Justin, Rachel, Toby, Krista, David and Maggie!
Ever since the theme Five was announced for CHIC 2012, Covenanters have wondered what it referenced. Organizers were cagey. Was it chosen because this is the fifth year CHIC has been held at the University of Tennessee campus? Was it because the event was five days long? Were those and other reasons all part of the theme?
As it turns out, Five also is the number of questions asked by God that students are being asked to consider throughout the week. A different question was introduced each night at Main Stage.
Sunday night speaker Harvey Carey drew upon the story of Mary
Magdalene encountering the risen Christ, who asks her,
"Who are you looking for?"
Monday night, Bianca Juarez posed the question that calls individuals to follow Jesus, as He asked his disciples,  "Who do you say that I am?"
Tuesday night, Francis Chan  preached from a text in which Jesus asks a question of the disciples. He shared with the 5,000 CHIC students the incident in which the resurrected Jesus had asked Peter three times,  "Do you love me?"
Wednesday  night, North Park Chaplain Judy Peterson, shared the story of the man that Jesus told to take up his mat and walk, which he immediately did. But Jesus issued the command only after he asked the man, "Do you want to be well?"
Thursday night, the final main stage, Louie Gigglio challenged the students with the question from John 20 and Isaiah 6, "Who shall I send?"
Those who gathered for the final mainstage of CHIC2012 raised over $127,555 for the Covenant World Relief Offering — Covenant Kids! In addition, ten percent of all sales in the CHICstore along with donations from the online giving option (made available so others, not in Tennessee, could participate) would be added to the offering as well. This is the largest offering collected at CHIC, to date.
Covenant World Relief (CWR) has been the response of the Evangelical
Covenant Church (ECC) to extreme poverty, hunger, injustice, and disaster for more than 60 years. Together, CWR and Covenant World Mission partnered with national church ministries to break the cycle of poverty for children and students through formal and non-formal education in the countries of India, Colombia, Congo, and South Sudan. The funds collected at CHIC2012 will be used to support these Covenant Kids ministries.
May God bless the individuals, their communities, and the world through the ways this money will be used to support Covenant Kids ministries – including the impact the act of giving in such a manner may have on the students, leaders, volunteers, and supporters of CHIC 2012.