The 126th Ministry Celebration of the Midwest Conference is coming to
Colorado this year. It will be held at the Evangelical Covenant Church, Fort Collins, Colorado, on Friday and Saturday, April 27-28, 2012.  AWCC has two delegates that we can send. Would you like to be one of our delegates and represent  AWCC? The first session is Friday at 3:30 pm, with dinner and 5:30 pm and worship and communion and 7 pm. Then it concludes on Saturday, beginning at 8:15 am and done by 11:45 am. If you're interested, please contact the church office ASAP to attend.  Registration needs to be in by
April 2.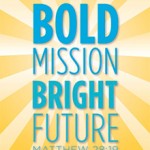 There are also some opportunities for women to be part of Connecting Women of the Midwest Conference. It begins Thursday night with a  documentary on Human Trafficking and Modern Day Slavery. Friday morning, women will gather for celebration of ministry, an outreach project and business session followed by lunch. If you'd like to attend, please contact the church office ASAP. There is not a limit as to how many can attend!