Covenant World Relief (CWR) is the Evangelical Covenant Church at work in the world. The church is at its best when it serves the most vulnerable. Through Covenant World Relief, Covenanters are participating in kingdom ministry. CWR has been working with the poor, the powerless, and the marginalized for more than 60 years! Many, many times CWR is first to respond to natural disasters that occur throughout the world.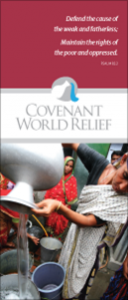 CWR chooses to work through partnerships. Most of our partners are Covenant or Covenant-connected organizations. These partnerships leverage resources, empower local ministries, increase local involvement, reduce overhead, and facilitate immediate response to disaster and human suffering. CWR is committed to maximizing the amount of funds used in direct ministry. At least 90% of every donated dollar goes directly into ministry serving the most vulnerable.
Pick up a soup can label and lid in the lobby. A great family activity is to collect money in your soup can to give to CWR in thanksgiving to God for His Provision in our lives. Every penny counts!