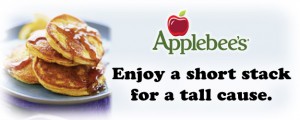 Royal Family Kids Camp invites you to come and enjoy a short stack for a tall cause at an all-you-can-eat breakfast at Applebee's Restaurant
90th & Wadsworth
Saturday, October 8,
7:30 am – 9:30 am
Cost: $5/person
Thank you for your donations.  Proceeds will help send a child of abuse and neglect to
Royal Family Kids Camp or King's Team in 2012.  If you can't attend, but would like to
donate, that's greatly appreciated too!