VBS Applewood Community Church June 12-16, 2017!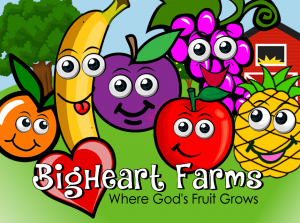 June 12-16, 2017          9:00am – 11:30am          Ages: Entering K-6th
Music, Games, Crafts, Stories, Snacks and more!!
We kick things off on Monday, June 12th and run through Friday, June 16th.  We will start at 9am and wrap up each day at 11:30am. This year's theme is BigHeart Farms, Where God's Fruit Grows! We will learn about the Fruits of the Spirit and how we can show love, joy, peace, patience, kindness, goodness, faithfulness, gentleness, and self-control in our lives.
Registration fee is $10 per child, and includes a t-shirt. This fee will help offset the costs of running VBS, but you can donate a larger amount to help with VBS costs. We will collect the registration fee on the first day of our program.  Please make checks payable to Applewood Community Church.  We cannot accept credit and/or debit cards at this time.
Register Here!
Please click the "back" button on your browser to complete the form for multiple children.