VBS at Applewood Community Church June 11-15, 2018!
We are so excited for this summer's Vacation Bible School. We will be blasting off into God's Galaxy to discover who God is and what He made us to be and do.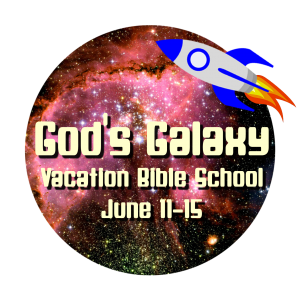 June 11-15          9:00am – 11:30am          Ages: Entering K-6th
Music, Games, Crafts, Stories, Snacks and more!!
We kick things off on Monday, June 11th and run through Friday, June 15th.  We will start at 9am and wrap up each day at 11:30am.
Registration fee is $10 per child. This fee will help offset the costs of running VBS, but you can donate a larger amount to help with VBS costs. We will collect the registration fee on the first day of our program.  Please make checks payable to Applewood Community Church.  We cannot accept credit and/or debit cards at this time.
Please click the "back" button on your browser to complete the form for multiple children.
For an idea of what VBS is like at Applewood and for updates follow our Facebook page.
All of our volunteers are background-checked and up-to-date on safety procedures and child protection. We offer a fun and safe environment for your children. If you have any questions, please feel free to email childrens@awcclive.org.