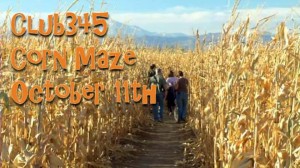 What: Corn Maze at Rock Creek Farm (info at: http://www.rockcreekfarm.com/) located at 2005 South 112th Street, Broomfield, CO 80020. We will go through the corn maze then visit the family fun area for a hay bale maze, bouncy slide, farm animals, and food. We might do a little bit of pumpkin picking too!
When: Saturday, October 11th – meet at the church at 1:30 and plan to be back by 4:30.
Who: Club 345 – 4th, 5th, and 6th graders. If any parents or teachers want to go along, please be sure to let Sarah know! We could use some extra drivers and adult supervision.
Cost: Ages 6-11 are $5, 12 and up are $8. Kids are encouraged to bring a little extra spending money if they want to get food (i.e. caramel apples, pumpkin bread) or pick a pumpkin (pumpkin prices range from $1-$6).