Did you know that there are over 1100 individuals who are homeless on any given night in Jefferson County?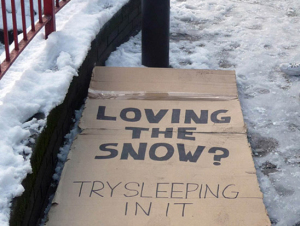 With winter fast approaching, the faith-based community, non-profits  and  Jefferson County are partnering to provide shelters on nights of severe weather. Applewood
Community Church would like to be one of those churches to open our doors to the homeless. We are asking our neighboring churches to join us in providing a warm place to sleep on a severe weather night. We would be the third church to join the network. The goal is to have 12 churches be sites for the Severe Weather Shelter Network.
What is a severe weather night?
If the temperature is 20 degrees or colder and dry weather conditions OR
If the temperature is 32 degrees or colder and wet weather conditions.
The Severe Weather season is from October 1—April 30, and we average 60 severe weather nights during that 212-day period.
If you're interested in serving or would like more information, please provide your name and contact information on the sign-up in the lobby.