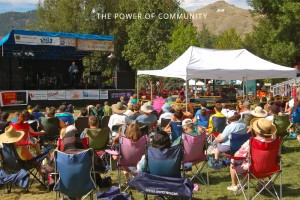 On Sunday, July 28, at 9:00 a.m., we will be joining other Golden churches in worshiping God together! All AWCC is invited. The service will be at Parfet Park, on the Main Stage at 10th & Washington in Golden. There's parking just to the East of the park, or anywhere that you can find (they rope off 19th street from traffic).  We will NOT be meeting at AWCC that morning!
"The overall purpose of our coming together in the park for the worship service is to
witness to our unity around Christ in a tangible way and to remind God's people of the bigger picture and calling of the Together Church of Golden."
WHAT TO BRING
It's always a very hot morning… Be sure to bring water, lawn chair or blanket, sunscreen, sunglasses, a good hat, and possibly an umbrella. Wear shorts!
WHAT TO DO AFTERWARDS
Hang out with other Golden Gatherers and Christians from the community after the
Worship Service to see the various vendors and attractions. There's plenty of food
concessions, craft booths, and usually a 'hot rod' car display.