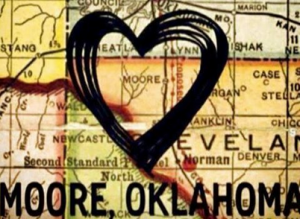 As many of you know, there was a terrible, devastating tornado on Monday in Moore, Oklahoma. This tornado left killed many, and left thousands homeless. Many, many fellow Covenanters were affected by the tornado. In light of recent events, Rachel Wright began to wonder, "There must be something we can do to help!"
After some research and phone calls, it turns out that there are several ways to help! Journey Church is a sister Covenant church in the area. They're on the ground and are receiving supplies as donations. A list of necessary supplies can be found at their website:
http://journeychurch.tv/may-20-relief/. Check the list often, as it is frequently updated. Bring supplies on the list to church Also, if you're willing, please bring a dollar or two so we can ship all the supplies to their church.  Checks can be made out to AWCC, with Oklahoma Tornado written in the memo line.
A major relief organization, Covenant World Relief, is also on the ground and helping those in need in Moore. CWR is always one of the first responders in any natural disaster. After speaking with them on the phone, they informed us that the best way to help would be to send monetary donations. Therefore, in addition to meeting these immediate material needs, you can donate to Covenant World Relief today to support them as they serve those who have lost so much in Oklahoma. Please make your check payable to Covenant World Relief and write "Oklahoma tornado" in the memo line. CWR responds quickly to all disasters around the world! Please don't let an opportunity to help others pass you by. Let's be the church Jesus calls us to be, and support those that are desperate for help in Oklahoma.